Exciting News! 
I have written my first ever recipe book, you can order it from our publisher, Belly Kids: http://bellykids.bigcartel.com/product/little-red-velvette-prince-inspired-cook-book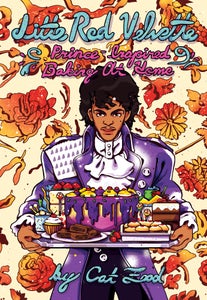 When I first started baking professionally, I really struggled to figure out what to bake, so I would first come up with a theme and bake menu items that would fit in. Just before my first bake sale, Prince had played a series of free concerts in London. People queued for hours on end to see him, but alas, I couldn't go as I had burst both of my ear drums, so painful! I planned my first bake sale: Raspberry Buffet in the hope that maybe Prince might come, eat some cake, and tell me he would Die 4 Cakes. 
I was truly devastated last year on the announcement of his death, and felt that a recipe book would be my perfect tribute to Prince. Sharing the love of purple themed cakes with the whole world is a dream come true. 
The book features recipes for all abilities, budgets and dietary requirements. Why not try your hand at a vegan cake? It tastes great, and you're saving the planet at the same time! 
Cat Food x